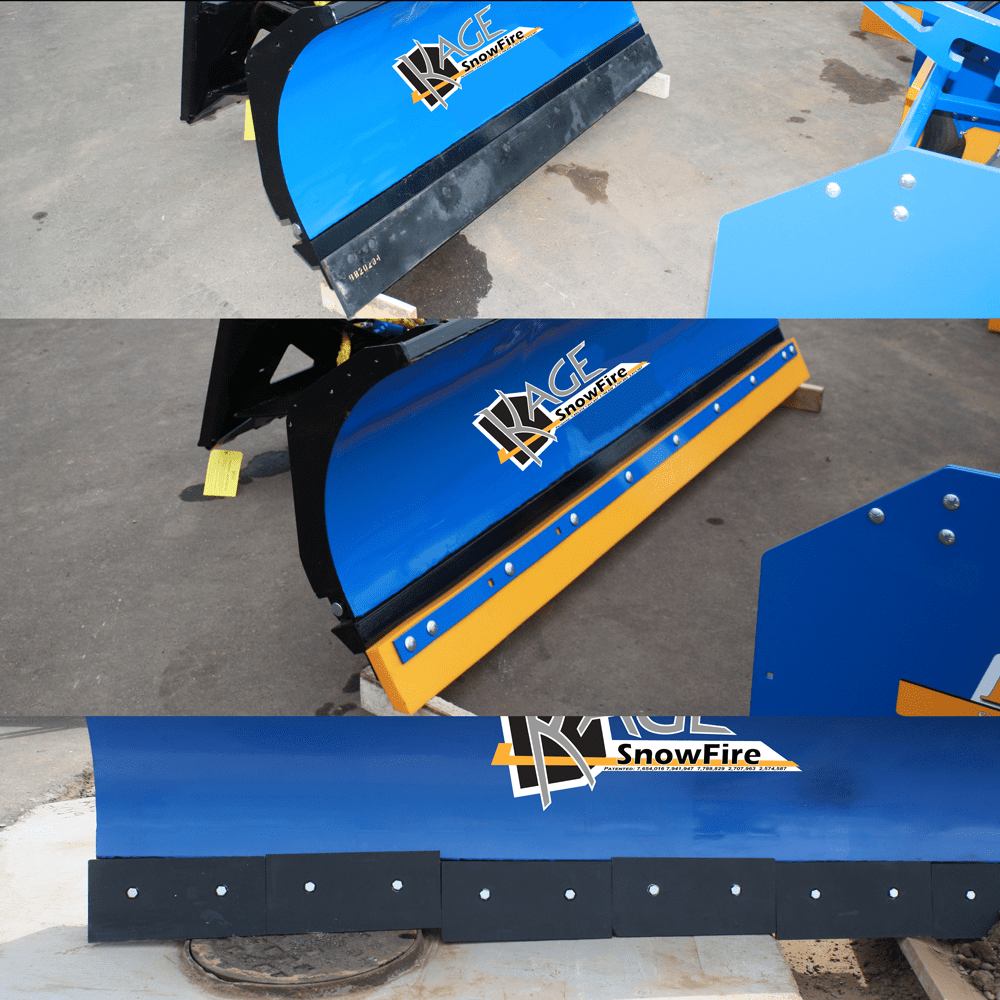 Do you want to be on the Cutting Edge of the industry? Yes, well it is important to put money where your cutting edge is! We frequently get asked which cutting edge is best, but the answer is… they all have pro's and con's.  Read below to learn more about which is right for your plow cutting edge.
Carbon Steel Cutting Edge on a Plow or Pusher Box
Carbon Steel cutting edges are by far the most common in use today on Skid Steer's, Tractors, Loaders and Trucks.   There are many pro's and con's to this type of edge that should be considered.
Pro's:
Clean Well
Hard material that can break up light hard pack
Typically least expensive
Con's:
Noisy
Cannot adjust to imperfections in substrate
Polyurethane Cutting Edge on a Skid Steer Plow
Polyurethane cutting edges are less common than steel, but have many advantages.  We suggest Poly cutting edges to be used on skid steers when plowing residential and high end commercial properties.
Pro's:
Easier on uneven or expensive substrates such as cobblestone, pavers and stamped concrete.
Quiet
Cleans well
Con's
Higher cost vs Carbon Steel.
KAGE AdvantEdge™ – Adjusting Sectional Edge for Skid Steers, Loaders, Tractors and Highway Trucks
The KAGE AdvantEdge sectional cutting edge will give you a serious AdvantEdge™ over your competition!!  The sectional cutting edge may not be anything new, but the KAGE AdvantEdge™ doesn't use any rubber components.  Our sectional cutting edge uses high quality steel components with spring adjusted cutting edge sections.  The standard Highway / DOT punch also allows this edge to be installed on a wide variety of pushers, plows, and even on highway trucks!
Pro's
Fully customizable spring tension cutting edge sections.
Hardox Steel Edge that lasts up to 4x longer than carbon steel.
Heavy construction with steel slide bars.
Cleans better by maintaining contact to uneven ground.
Con's
Higher cost than carbon steel
Choosing the right Cutting Edge for your needs is just as important as choosing the right plow.  We want to help you do the best job for your customers! Contact us on our Online Chat if you have further questions about which Cutting Edge will keep you on the Cutting Edge!
https://www.plowsite.com/threads/bolt-on-sectional-cutting-edge.172370/
https://www.plowsite.com/threads/kage-innovations-vs-arctic-sectional.93230/
https://www.youtube.com/watch?v=ucKufCMRLYY&t=140s
https://www.bigplows.com/advantedge.html