Anti-Ice Brine Sprayer Attachment for Skid-Steers and Tractors
Brine used for anti-icing in the pretreatment process is becoming all the RAGE! Municipalities have tested the process of applying brine to roadways and critical areas before the storm for years, and have adopted this technique across the country. One thing is certain – if you can prevent the bonding of the ice and snow to the pavement, you will have a cleaner surface after you plow. This is where the Liquid Rage can give you the advantage over the competition. Use your existing skid steer or tractor to apply your brine to the critical areas of your sites before, during, or after the storm!
Anti-ice / De-Icing Spray Attachment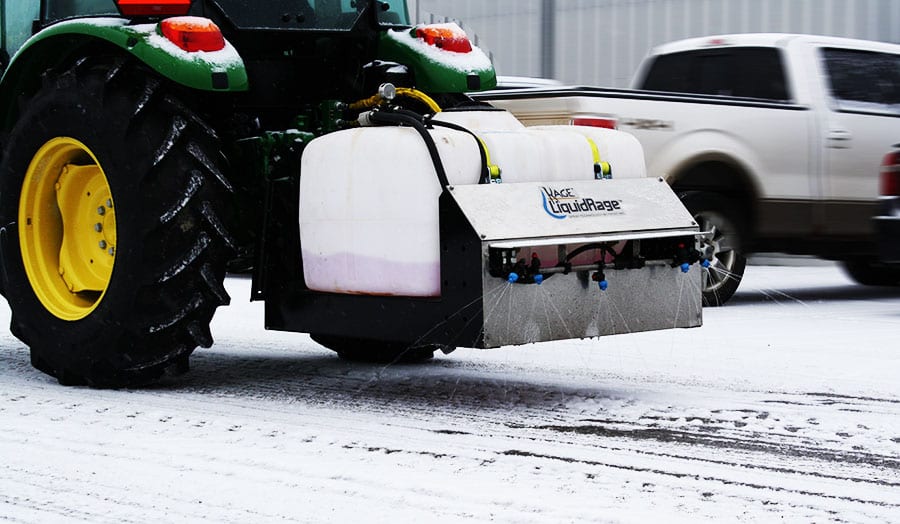 Liquid anti-icing is becoming more popular as rock salt shortages and regulations increase. There are many advantages to pre-treating your sites with brine, and these are the most popular. Corrosion inhibitors and tracking inside of buildings is our personal favorite!
---
1. Liquid products are better for turf, soil and ground water
2. Liquids do not bounce off your target coverage area
3. Liquid anti-ice applications do not 'plow off'
4. Liquids almost eliminate tracking into buildings and reduce corrosion and build up
5. Liquid anti-icing applications prevent ice bonding to the pavement
6. Liquids are easier to pump than dry salt is to scoop
7. Liquid blended products include corrosion inhibitors which lengthens equipment life
8. It takes 10x more resources to post de-ice than liquid pre anti-ice
9. Dry salt stops working at 10-15 degrees F
10. It takes 20 minutes for dry salt to start working at 25 degrees F
Adaptable to skid steers, UTV*, & AG tractors. The Liquid Rage multi-seasonal spray technology attaches to CAT II 3-point hitch and Skid Steer mounts.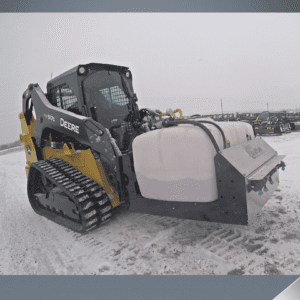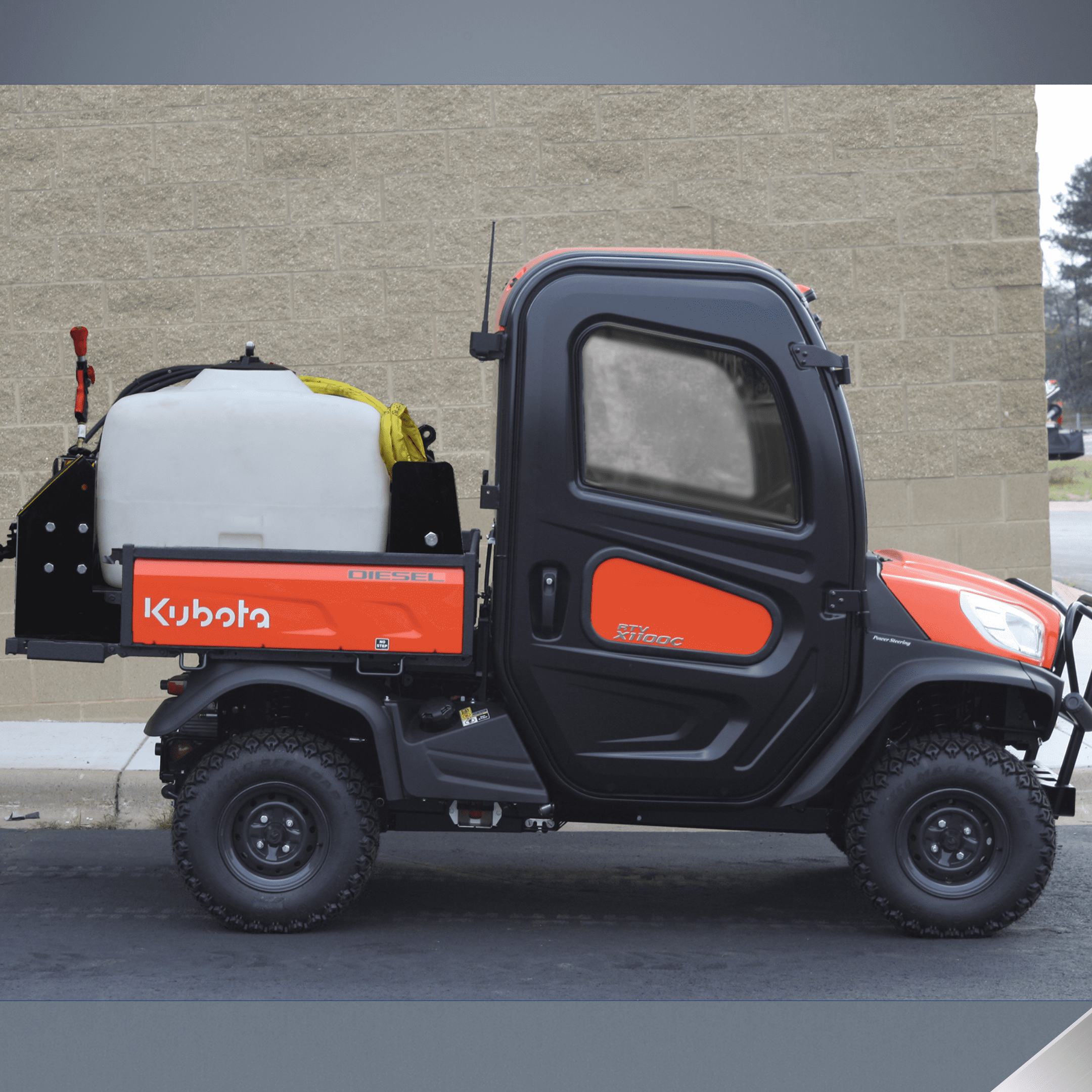 * UTV requires auxiliary hydraulics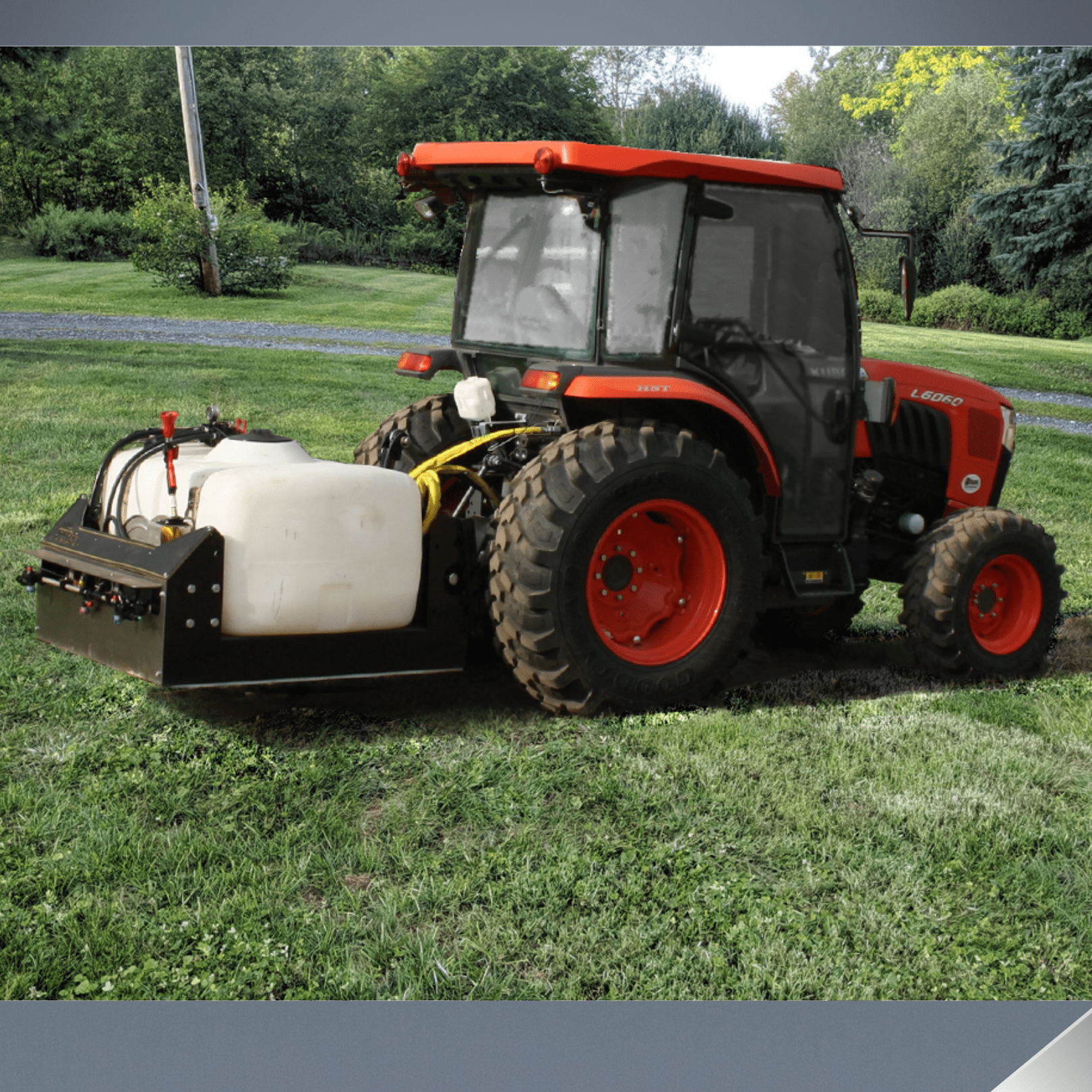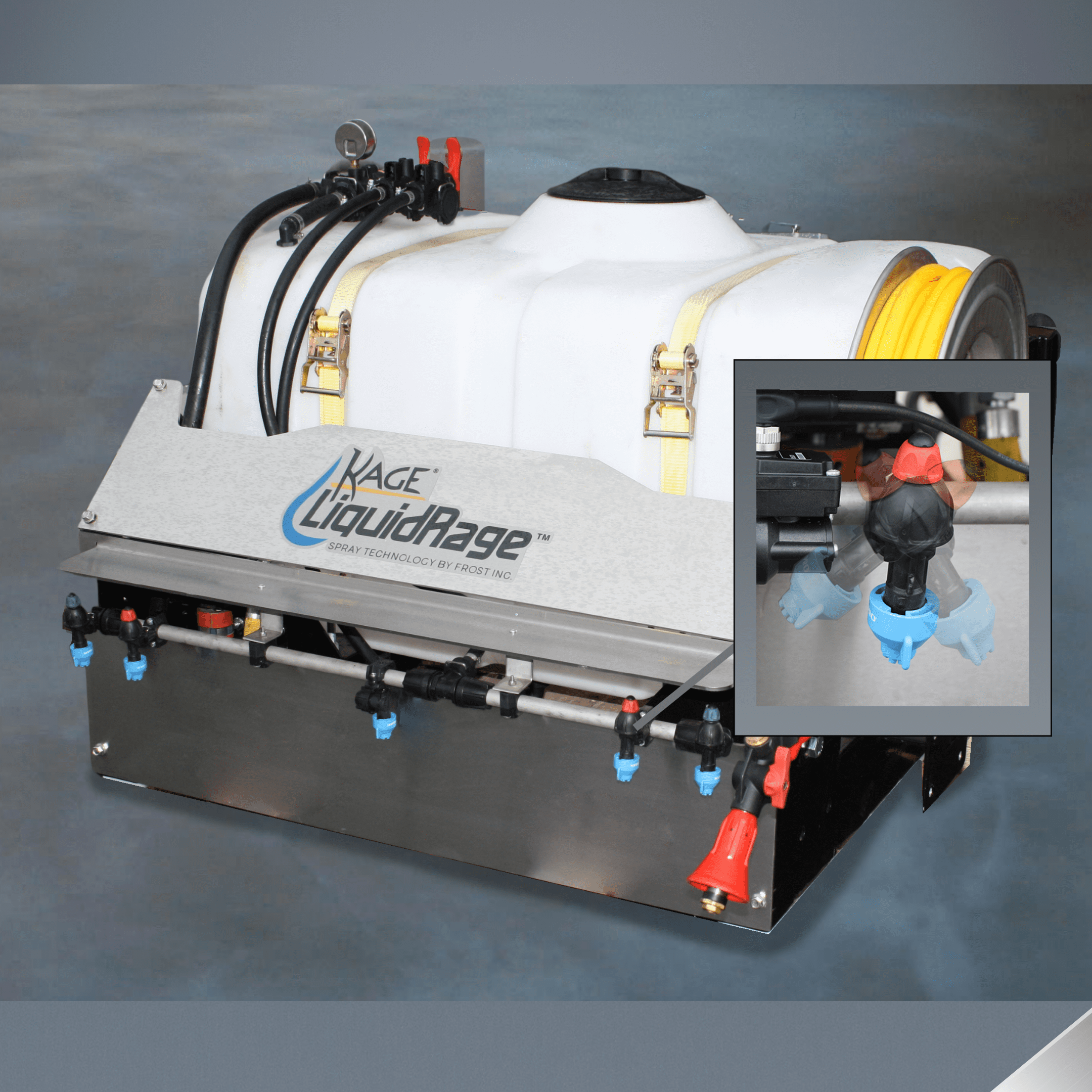 Adjustable Spray Nozzles
The 5 separate spray nozzles are adjustable so that you can increase or decrease your application width on the fly. We've even included check valves so that they don't weep and drain all over after you've shut them off! The 6 stream spray pattern of each nozzle provides penetrating force to get through layers of snowpack. All of your nozzles are protected from damage by the stainless steel flange they are mounted to.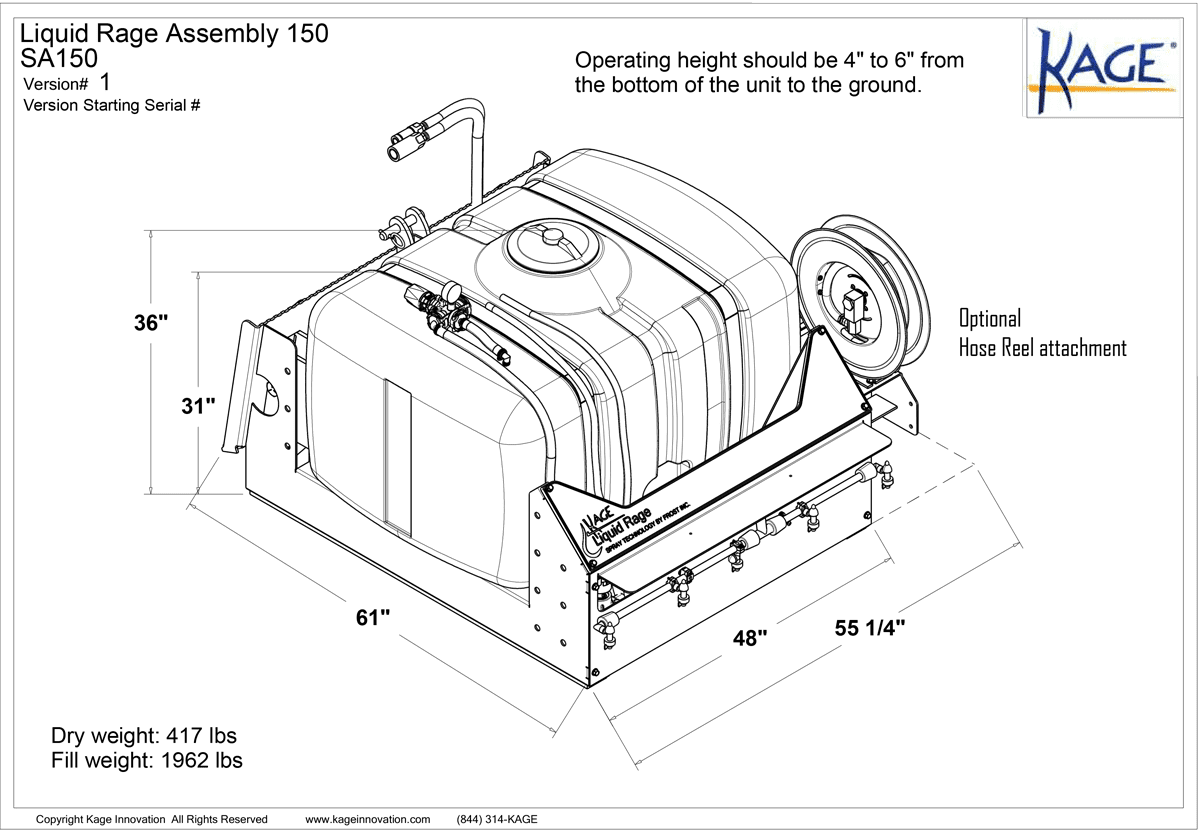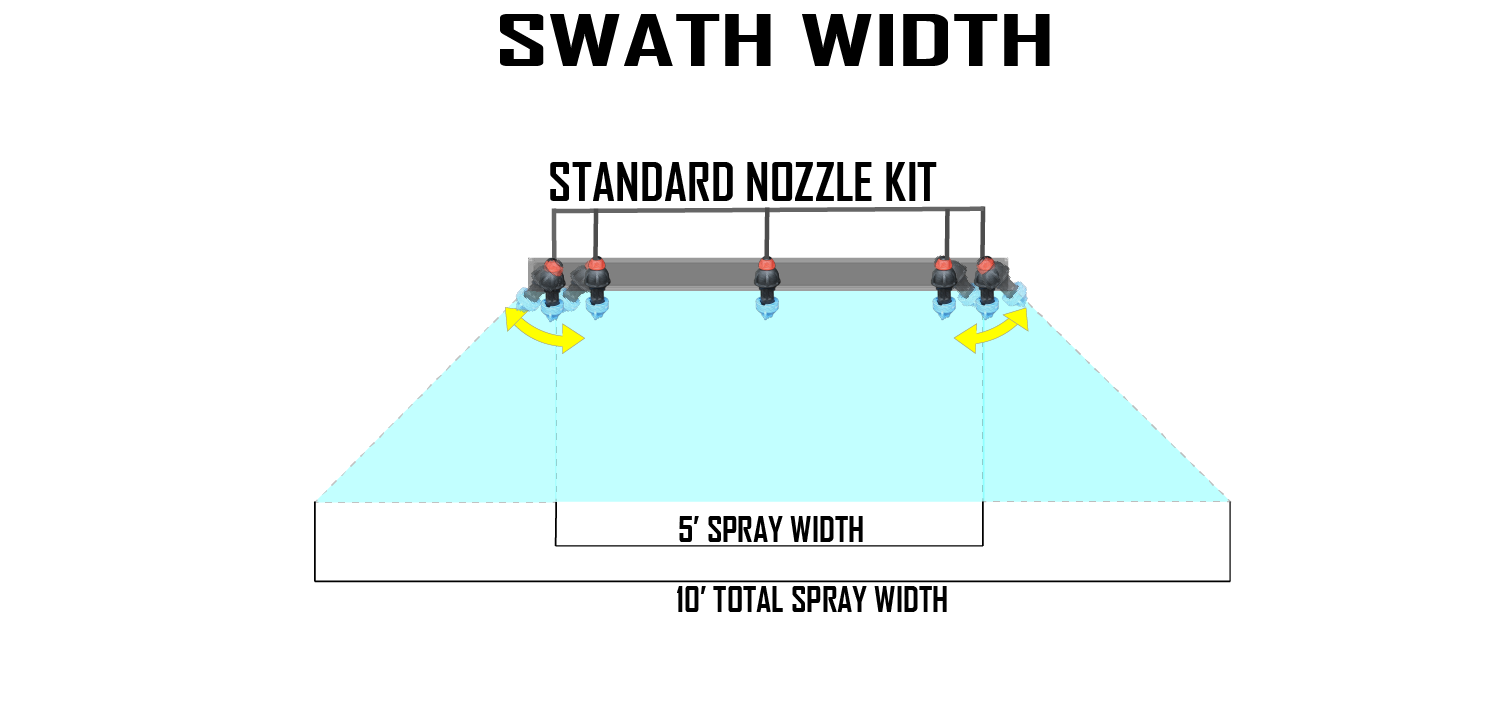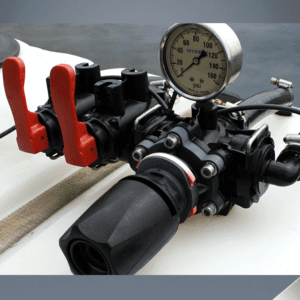 Pressure Control
Control the rate at which you are applying the brine. This pressure adjustment gives you an even spread for your desired rate of travel and application width. This also enables you to adjust to various tool carriers with different hydraulic flow rates.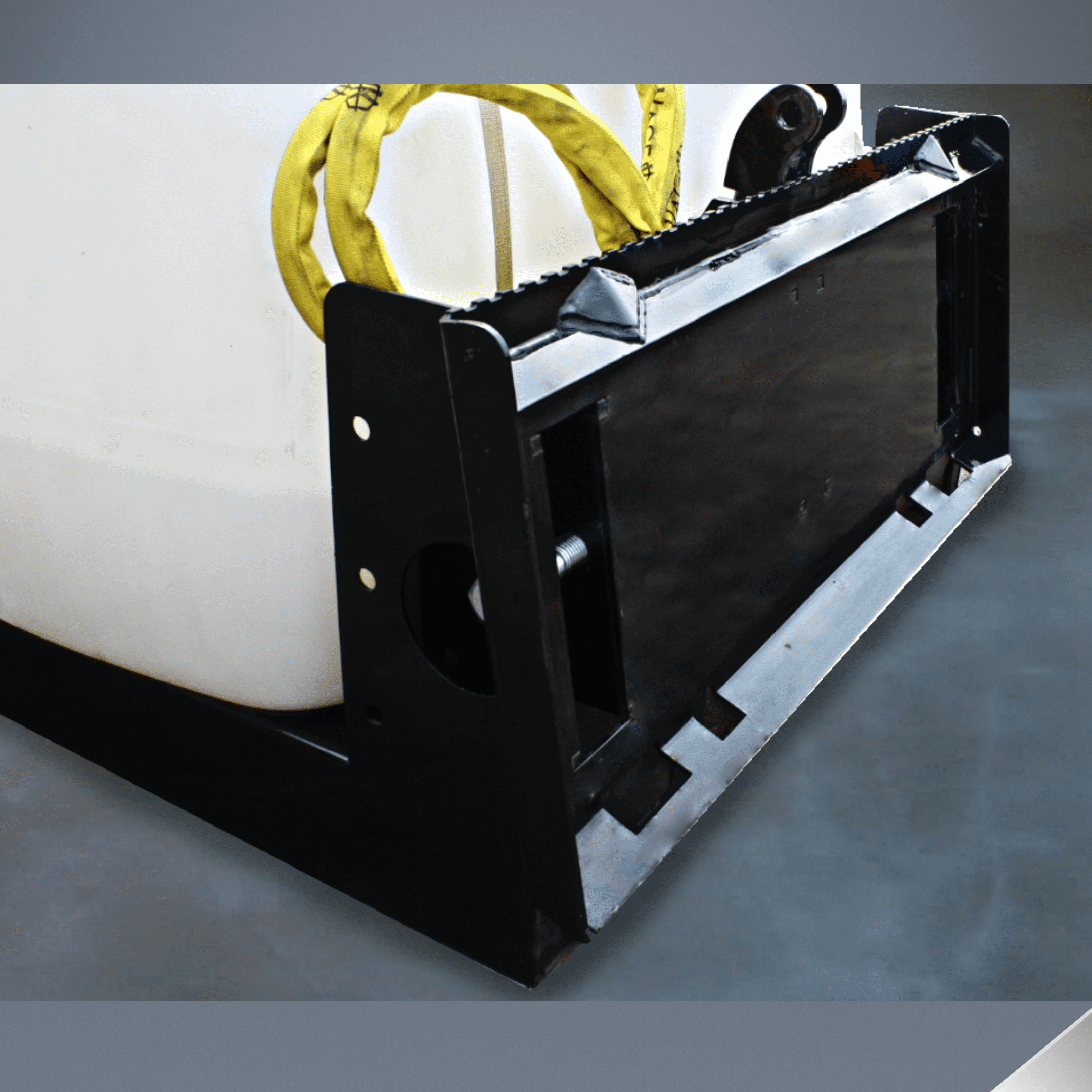 Universal Attachment for Skid-Steers & Tractors
The "universal skid-steer plate" just took on a whole new meaning! Now with a simple modification to the age-old skid steer plate, you are able to attach the same implement to your tractor. No need for an adapter plate, just switch and go!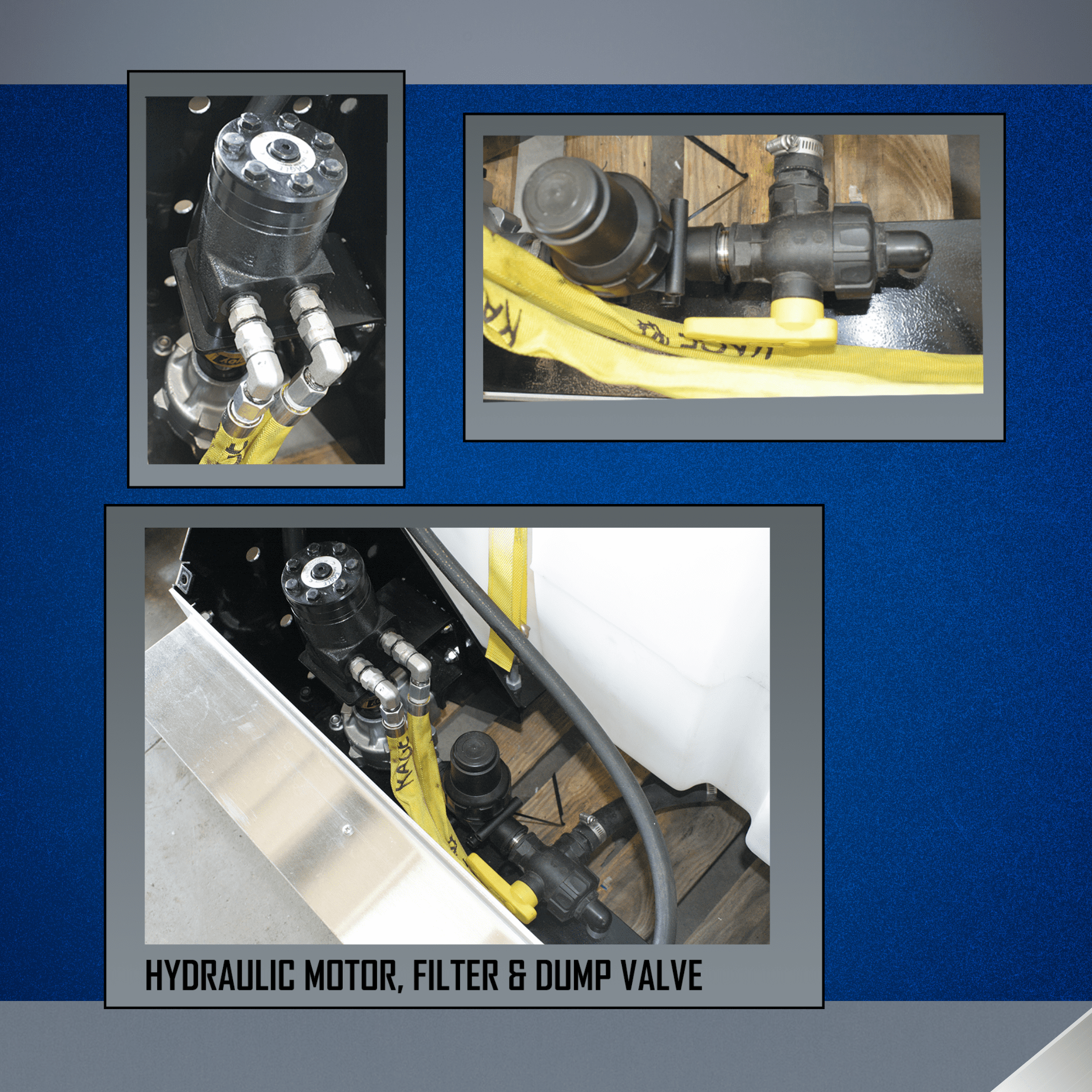 The Liquid Rage is powered by the hydraulic auxiliary of the tool carrier it is hooked up to. The operation is simple. Activate the hydraulic auxiliary from your machine, and watch the pressure gauge increase while the nozzles spray!
A heavy-duty hydraulic motor powers the liquid pump, drawing the material from the bottom of the tank and through a filter. A built-in dump valve gives you an easy way to drain the tank completely.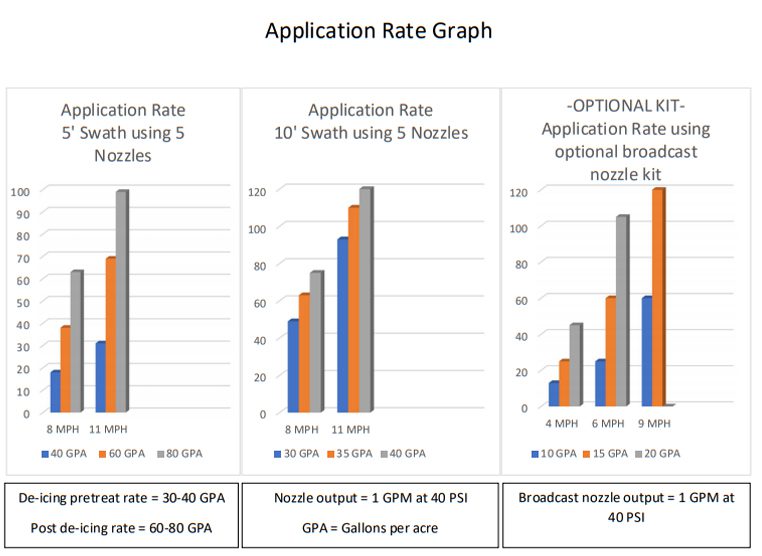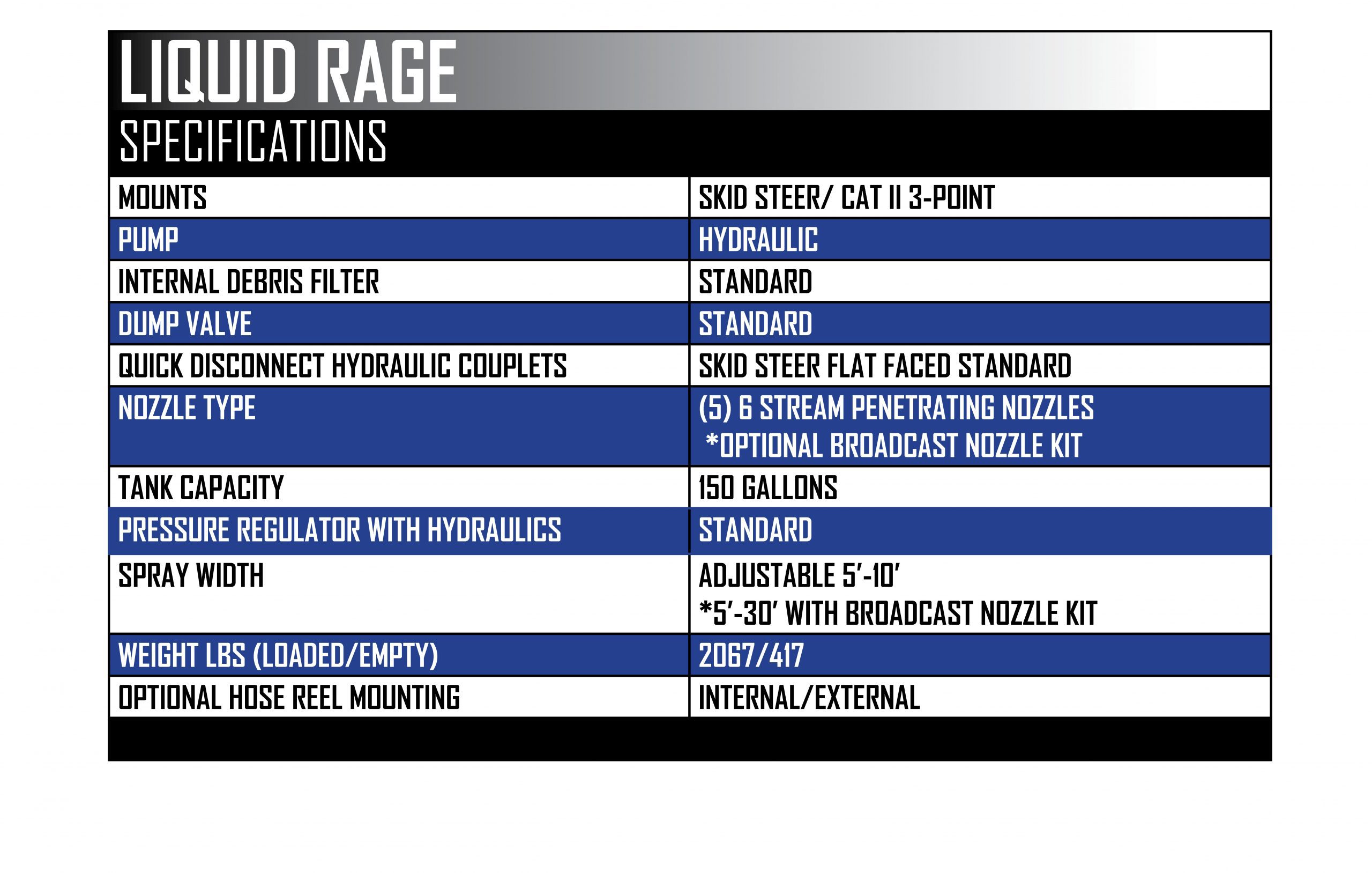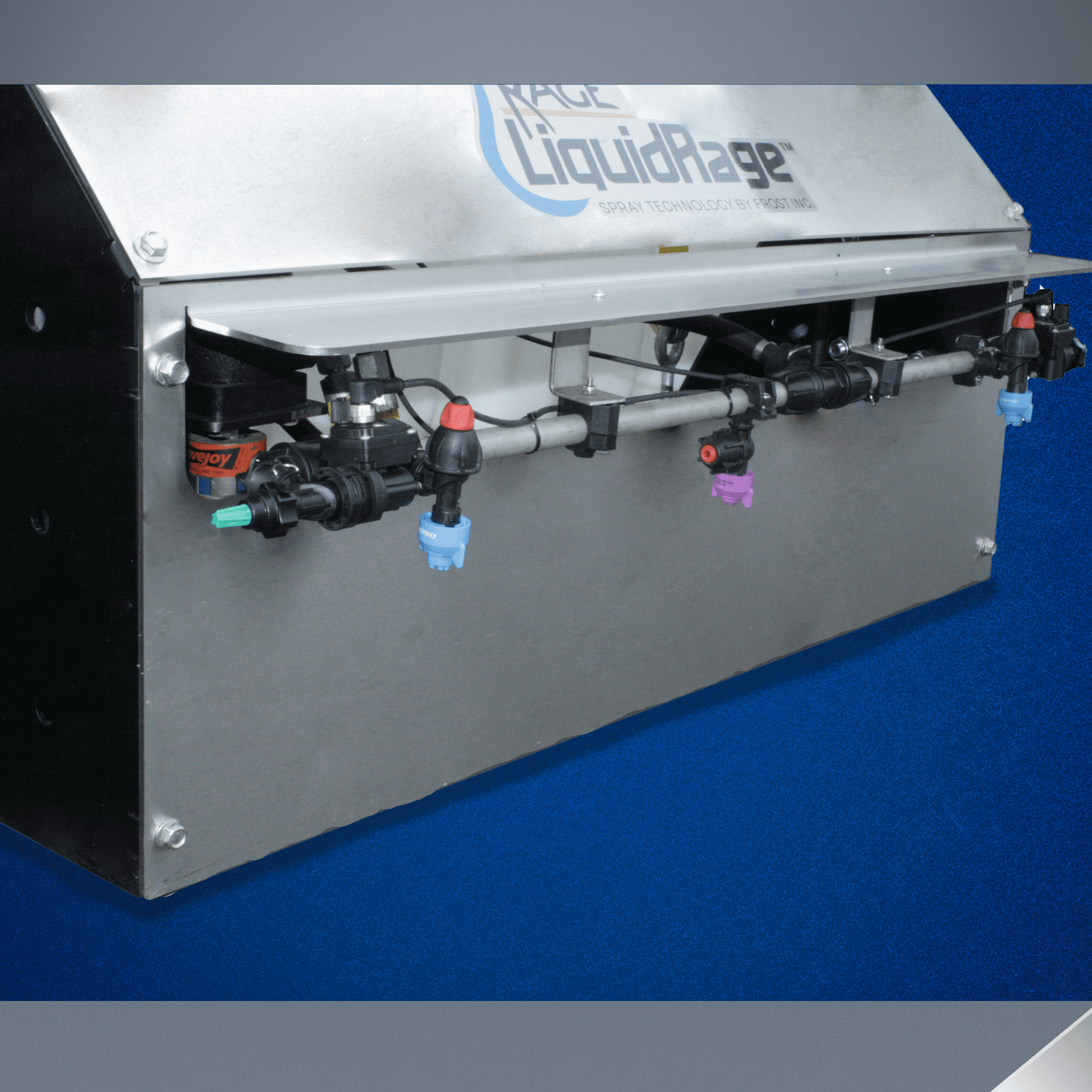 The NEW Broadcast nozzle kit! This attachment transforms Liquid Rage into a multi-season product. Expanding the spray width to a total of 30 feet! Perfect for spot spray, dust control, and broadleaf applications.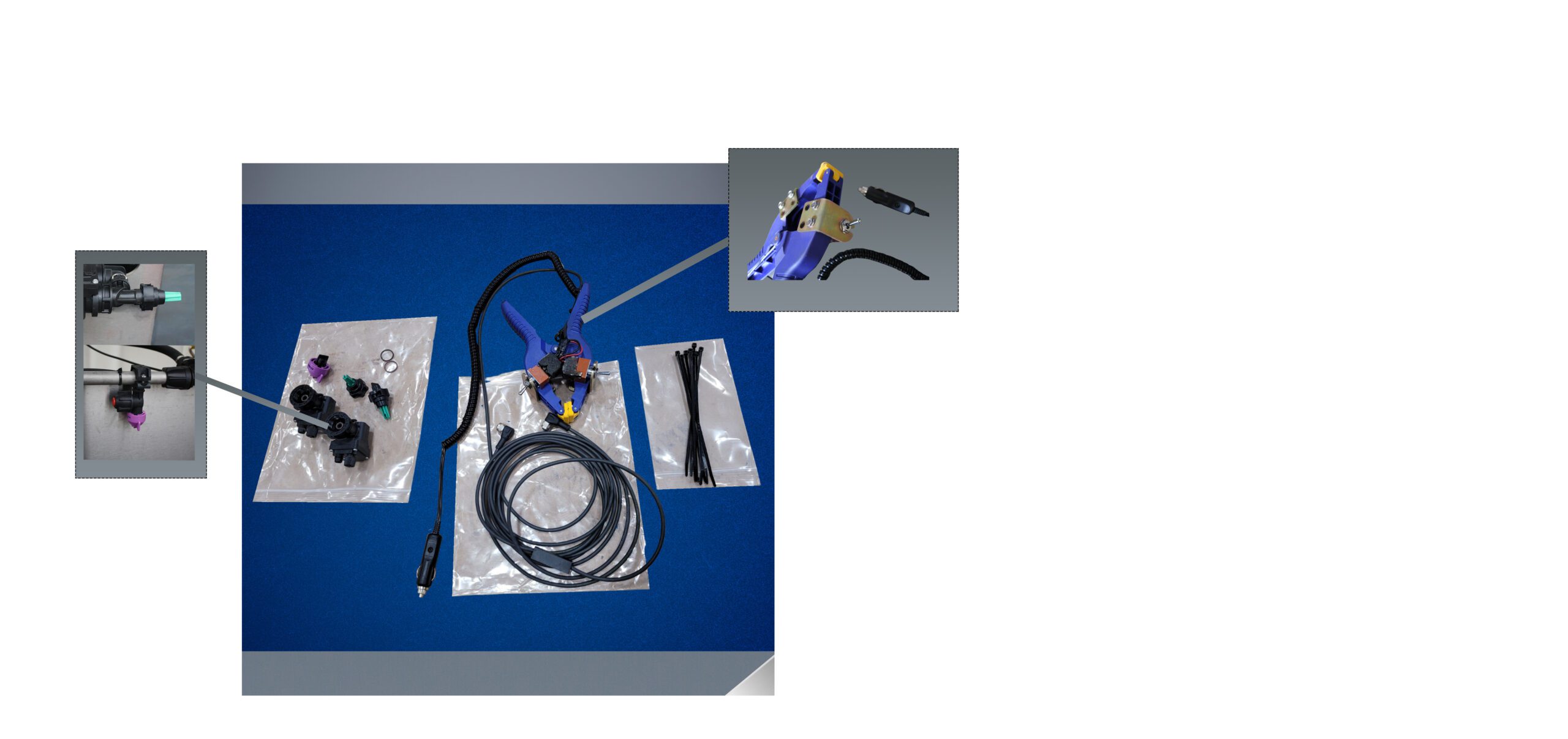 The Broadcast Nozzle kit also offers an in cockpit- ON/OFF control for side spraying. Use for dual function or alternate sides.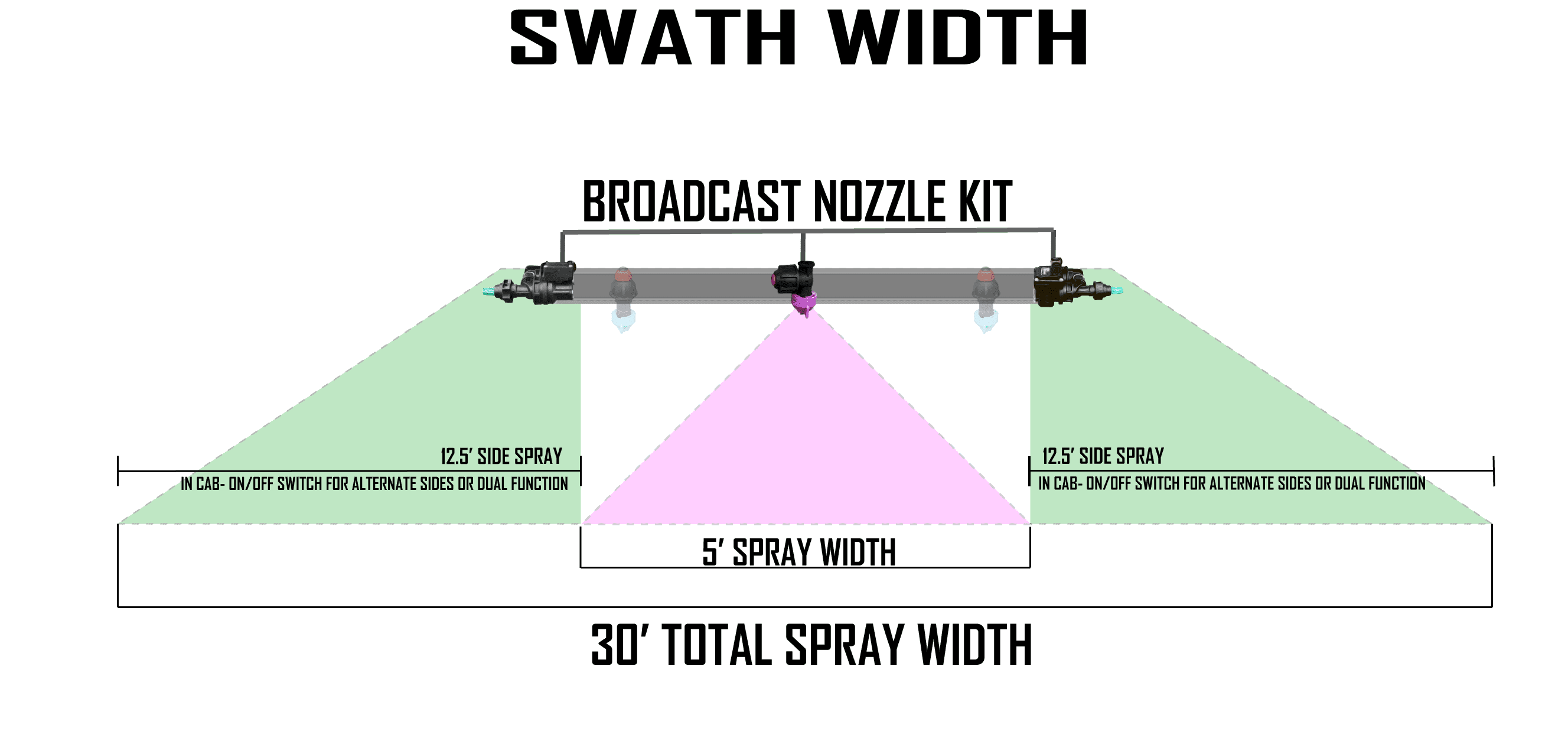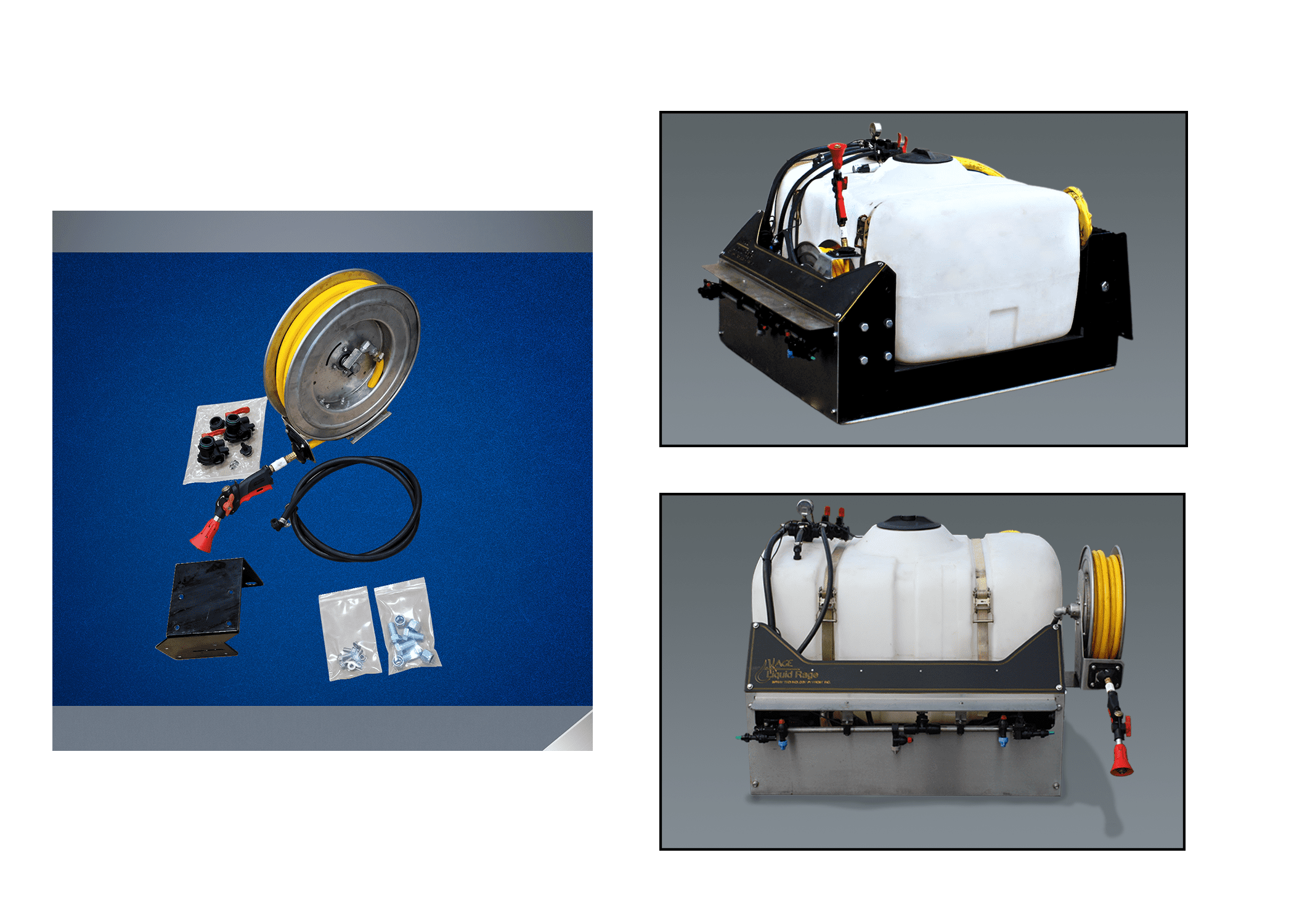 The Hose Kit offers even more coverage. Get around tree rings and in tight spots! Easily interchange between internal and external mounting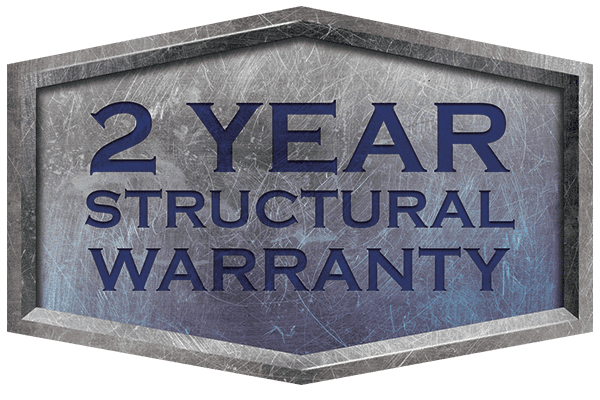 Money Back Guarantee