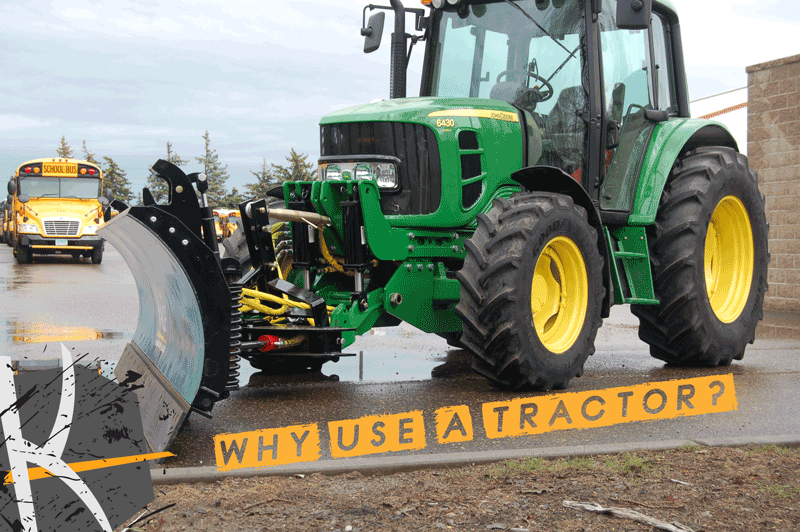 Why haul snow when you can blow it? In many circumstances, snow is piled high, but piles have space behind them.  In a high snow year, when piles were not pushed back far enough, there is no better equipment than a KAGE SnowStorm™ Plow, Tractor and Snowblower to move the tough piles!
Why use a Tractor with a KAGE SnowStorm™ to move snow?
Tractors when paired with KAGE Tractor Undercarriages and KAGE SnowStorm™ plows are built to not only plow snow, but also take charge of the toughest jobs!  Tractors can help in a variety of ways including:
Higher weight and downforce than a loader at a comparable price point
3pt rear hitch that can allow you to plow while also having a KAGE LiquidRage™ brine applicator on one machine.
Rear PTO that will allow you to plow snow and blow snow with one machine.
Fast road speed that will allow you to get from plow site to plow site faster.
Many of our customers in large complexes, especially townhomes find that Skid Steers are great to back drag, push and windrow, but tractors are better at moving large piles and pushing piles back.
Is it better to use a Tractor than a Front Loader?
This really depends on your situation. There are pro's and con's to both that need to be considered when choosing the correct machine for your sites.
Loaders are able to lift higher allowing operators to load trucks when needed.  If you are at a site where snow must be hauled away, loaders will allow you to do just that.
Tractors however are far more versatile.  We have found tractors to be capable of breaking apart large piles without the use of excessive hydraulic force that can and will damage equipment or even worse, hurt operators.  Utilizing tractors also adds the ability to use less expensive PTO driven attachments when needed.
What is a KAGE Tractor Undercarriage?
A Tractor Undercarriage is designed to fit on a tractor frame and be the mount for a KAGE SnowStorm™ system.  We are frequently asked why we do not utilize the Tractor Loader Arms that many customers already have for their tractors.  The reason is because loader arms are not designed to take the abuse that snow operators put the machines through.  In almost every snow event, operators are moving quickly, hitting curbs, using downforce, and this puts lateral and horizontal pressure on loader arms that will twist which can cause catastrophic damage to the equipment.  This not only leaves your job not done, but also leaves you stranded with a big repair bill.  KAGE undercarriages are built to take the abuse!
https://www.plowsite.com/threads/kage-plow-pusher-reviews.155460/
https://www.youtube.com/watch?v=V7uDnHznIvE&t=89s