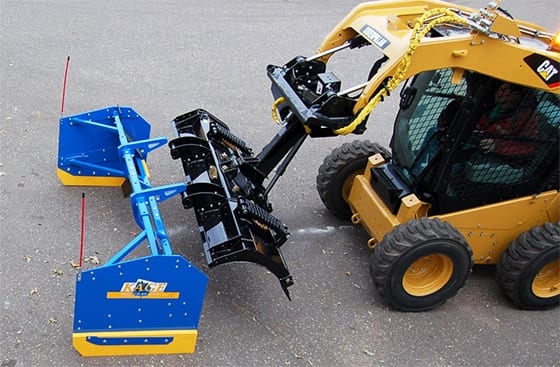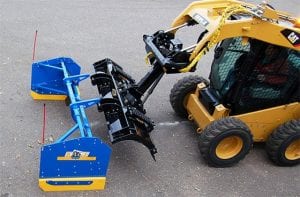 Are you already dreading late nights behind the wheel of a truck snow plow this winter? If so, we've got news for you, it's time to upgrade your snow removal equipment. If you have a skid steer laying around your equipment yard, you're in luck! At KAGE Innovation, we offer a skidsteer snow blade that allows you to easily push and stack snow without ever leaving the cab of your machine. Skidsteers are much more efficient for snow removal compared to truck snow plows. In fact, The KAGE® Snowfire Snow Plow System for skid steers will keep up with three snow plow trucks. Or plow a commercial lot in 45 minutes instead of three hours using just one snow plow skidsteer. This is according to "Land and Home Services" out of Angle Fire New Mexico. Listen to how using a skidsteer for snow removal will revolutionize your entire snow plow operation.
Why Should I Use a Skidsteer for Snow Removal?
Below are just a few reasons why you should add a skidsteer to your snow removal arsenal come wintertime.
Easier to Maneuver – Skidsteers are much easier to maneuver in tight spots. Snow plows attached to trucks can be difficult to use for long periods of time, and in tight spaces.
Powerful – Skidsteers pack quite a punch when it comes to power. Skidsteers are meant to move heavy loads of material, including snow.
Ability to Lift and Stack Snow – Truck snow plows are able to push snow, but that's about it. With skidsteers you can not only push snow, but lift and stack it as well.
Snow Blade Skidsteer to Snow Pusher in Seconds
The KAGE® SNOWFIRE Skid Steer Snow Plow System helps to take the productivity of your skidsteer up a notch! Our patented system not only allows the operator to not only push snow, but stack it as well without any wasted motion. The 2-in-1 system features both a plow and a box which offers added flexibility. You'll be able to easily transition from the snow plow to the SNOWKAGE box in seconds without ever having to step foot into the cold to switch equipment. Whether you're looking to push snow with the angle plow or stack with the pusher box, your productivity on the job will greatly increase.
Skidsteer Snow Blade 2 Year Structural Warranty
At KAGE Innovation, we stand behind each and every product we sell, including our KAGE® SNOWFIRE Snow Plow System. This is evidenced by our 2 year structural warranty on all our products. To learn more about this patented system that will completely transform how you handle snow removal this year, feel free to reach out to our experienced team by phone today at 844-314-KAGE (5243) or via email at info@kageinnovation.com. KAGE Snow Plow Systems…Over Built By Design.