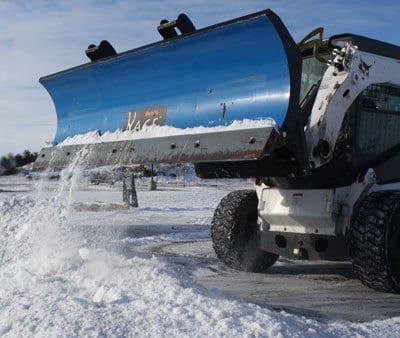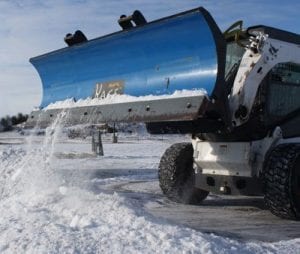 Are you already using a skidsteer for snow removal and think that you're being as efficient as possible? Well the team at KAGE Innovation is here to tell you that we have a revolutionary new snow removal system that's specifically designed for your skidsteer to help boost productivity while reducing fatigue on you and your operators. How can all that be possible? It's because of our patented product, the KAGE® Snowfire Snow Plow System.
Skid Steer Snow Plow
Most snow removal contractors use skidsteers with their standard bucket to move snow. While this works ok, it's not ideal. With the KAGE® Snowfire Snow Plow System you'll have access to a patented 2-in-1 system" that allows you to easily transition from a snow plow to a box plow in seconds. This is all done without getting out of the cab, and without any type of pins, hinges or bolts.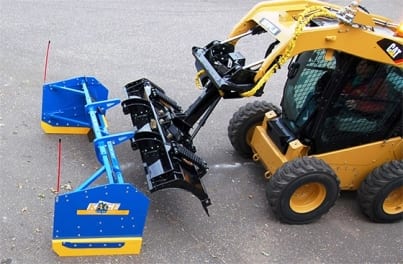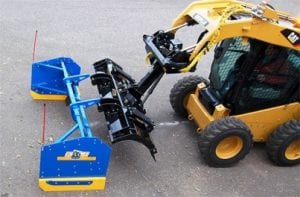 With the KAGE skidsteer snow removal system, users can use the plow to move or backdrag snow as usual, and when they're ready to stack the snow into piles, they can connect the SNOWKAGE box to quickly push their piles or windrows. Because of the flexibility of the KAGE® system, it can reduce plowing times by anywhere between 25-50%, which means that you can get to more jobs quicker, while still maintaining the high standards that have kept you in business for so long.
Snow Plow Pusher
Even when the KAGE® box is attached you're still able to use the trip edge and the cutting edge of the plow to scrape snow. This way you're able to plow down to asphalt in one pass.
Snow Plow Skidsteer Angle Function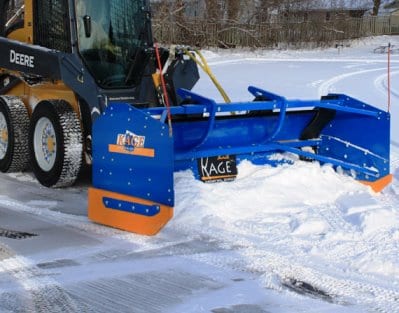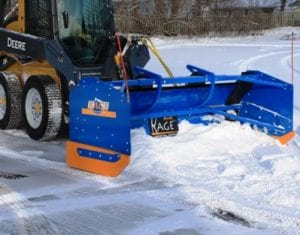 Another benefit of the KAGE® system is you're able to leave the snow plow attached when using the pusher, you can angle the plow in such a way that allows you to maneuver the snow as you're pushing it. This way you can easily make your way around curves without losing all of the snow that you've worked so hard to push.
Snow Plow Skidsteer System
If you'd like to learn a bit more about our KAGE® system that's built especially for skidsteers, don't hesitate to reach out to us today by phone at 844-314-KAGE (5243). We look forward to showing you how you can greatly improve your snow removal productivity with our unique and patented system.