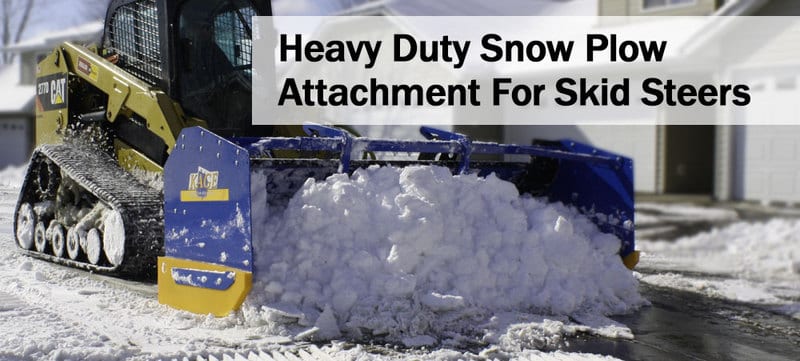 Snow plowing services can be risky and hard to predict. First, you have to be a meteorologist (better than any I know), you have to keep good employees and keep them happy (which is hard to do when the stresses are so high), and you have to get your customers to pay on time (otherwise you run out of cash). Then you add in the difficulties with equipment! Just make sure that you have heavy duty snow plow attachments for your skid steers and other equipment. Seems like a daunting task! However, SnowFighters everywhere live this daily, and most of them are addicted.
Skid Steer Snow Plow
Somehow, this stuff is just in your genes. Or maybe a better way to put it is that it's in your blood. It's the emotional wins that are sometimes few and far between. It's the long awaited sleep after a long, successful night of plowing. Nevertheless, no matter how dedicated you are as a SnowFighter, you don't want or need the extra headaches caused by broken equipment. Below are a few of the most common areas of failure to watch for on a skid steer plow. Check out what professional SnowFighters say about the KAGE® Snow Plow Box System.
Heavy Duty Reinforced Attachment Plate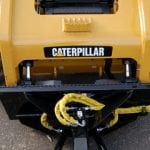 Your skid steer attachment plate is probably the most critical area of your moldboard. If your attachment plate fails, your entire plow is rendered useless. The most notable areas of any skid steer attachment plate are the 'Top Bar', and the structure surrounding the 'Pin Holes' at the bottom. Without proper weld penetration, the top bar can be ripped completely off of the attachment plate. Stacking snow, split-second jerks upwards to avoid curbs, and constant shaking and vibration can loosen, and eventually peel the top bar away from the plate. Once part of it starts to flex, that creates more and more opportunity for the bar to see increased strain, and tear the welds with a zipper effect. 3/8" thick top bars (very common) are simply not enough for the commercial skid steer snow plow. Look for a minimum of ½" thick top bar, with extra reinforcement on top or below. The pin holes at the bottom see tremendous abuse from down pressure, hooking curbs, and back dragging. These areas are no less important than the top bar, and should be looked at carefully when you are considering a purchase. 3/8" thick steel by itself is simply not enough. Look for extra reinforcement at the bottom and behind the pin holes.
Crossover Relief Valve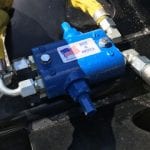 The crossover relief valve system is probably the second most critical element of a heavy duty skid steer snow plow. The crossover relief valve is supposed to protect your hydraulic system (the plow AND the machine) from blowouts caused by pressure spikes. Pressure spikes in a snow plow application are unavoidable without some sort of pressure relief. Whenever you attach an 8' lever to a cylinder and ram it into immovable obstacles, you will see a pressure spike in the system. The hydraulic fluid will find the weakest part of your system, and push out. The KAGE snow plow comes standard with a crossover relief valve preset at 3,000 psi for the skid steer and compact wheel loaders, and 2,500 psi for the mid-sized wheel loader and tractor plows.
Heavy Duty King Pin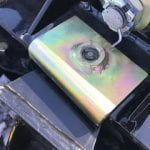 The center hinge point where you plow angles is probably the 3rd most critical area of your snow plow attachment for skid steers. Have you ever snapped the center pivot of your snow plow? Imagine ramming up into a pile (as usual) and as you pull back your moldboard flops around, hanging only by the ends of the cylinder rods? This sure is frustrating, and means a significant repair. Look for a grease-able king pin design that boasts at least 1.25" thick rods or pins. 1" pins are simply inadequate, and will bend or even shear.
Cylinder Bolts and Pins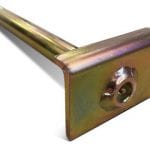 Albeit your cylinder bolts / pins are an intentional shear point to protect you, your equipment, and obstacles from severe damage, you don't want them to shear because you hit a pile of snow. Based on our experience, ¾" Grade 8 bolts have the correct shear strength of 39,760 lbs for up to a 12' wide blade. A skid steer, or compact wheel loader is factored into this equation.
Oscillation Mechanism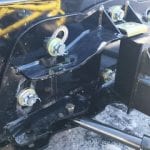 The oscillation mechanism of your skid steer plow is not only important to consider from an efficiency standpoint, but also from a structural one. If your skid steer plow does not oscillate properly, you will exert tremendous force on your attachment plate, down through the center pivot, and out towards the end of the blade. No parking lot is perfectly flat, and if the plow does not oscillate while the plow is angled it will dig in on one side of the blade. This causes unnecessary strain on all of the components of the plow and even the machine. Look for oscillation that is located on the moldboard of the plow (not on the attachment plate), and make sure that it works while the plow is fully angled. You should be able to angle the plow and put enough down pressure on to lift the front wheels of the machine off the ground. All of this should allow the cutting edge of the plow to remain flat on the ground without digging in on one side or the other.
Dragging Or Pinched Hoses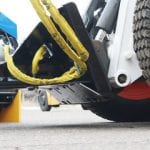 Probably the simplest, but often overlooked failure is from pinched or dragging hoses. It seems like a small thing, but if you blow a hose it will put your plow and machine out of commission. Make sure that your skid steer blade has proper hose routing methods designed so that you don't have to bungee cord hoses away from the tires or pinch points. KAGE SnowFire Blades offer 3 different hose securement points, ensuring that for whatever brand of skid steer you run, there is a good way to run the lines out of harms' way. Check out page 2 from the SnowFire Owners' manual that shows the suggested hose routing techniques for a Bobcat®.